Fees & What to Expect
The thought of therapy can be very daunting if it's your first time, added to that is the uncertainty you might be feeling when meeting someone new. To help reassure you please read below exactly what to expect when you book and attend a therapy session with me.
You will arrive at the front door of my Harley Street office and press the buzzer for my office, it will be myself that answers and lets you in. You will come straight to my room where we will briefly acquaint ourselves and get comfortable in my office. There is never any waiting around as all my sessions start and finish on time.
When we are ready to begin, I will ask you some basic details, such as your name, address, contact details and will explain how your confidentiality is protected. Rest assured that I will never contact your GP or anyone else unless I have your permission or instruction to do so. Everything discussed within my office stays there, between us.
I will continue to ask a series of questions that will help me understand more of your background and what you want to get out of our work together. This information will help me to choose the best route for us to take that will provide you with the help you need as quickly and thoroughly as possible.
In our first session it is important that I explain exactly what we will do in the following sessions to help ease and relax you about the process. I will explain the basics of how your mind works and how it processes negative events. I will explain the methods we will use, how it works, and why it works.
Clients have previously left this first consultation understanding much more than they did when they came in and have already started to work on their problem themselves. Most have left saying that they feel like a weight has been lifted, and they can finally see their issue is fixable.
Number of Sessions
Unfortunately, it isn't possible to say how many sessions it will take to rid you of your problem until we meet and have the first consultation. There are many factors that will affect the time it takes until resolution including the severity of the issue you face, your own willingness to explore the issue, and the type of issue you face.
Typically, someone suffering from anxiety, panic attacks, or depression will attend 4-9 sessions on average, though some will only need 3, and some may need more than 9. For other issues such as support quitting smoking, we will typically only have 1 extended session and for phobias we may have 2-4.
If you come to the session with an open mind and a willingness to explore your mind non-judgementally of yourself, we will be able to tackle your issue quicker. If you can allow yourself to speak whatever comes to your mind and avoid filtering, again, we will be able to reach a resolution quicker.
Fees
After the first consultation, we will meet once a week until our work is completed. Each session is between 55 minutes to 1 hour long. For quitting smoking the session is an hour and 30 minutes.
Face to face sessions are now back, online sessions are still available but limited.
Face to Face Sessions – £126.00
Online Sessions – £81.00
Quit smoking sessions – £207.00 and are only face to face.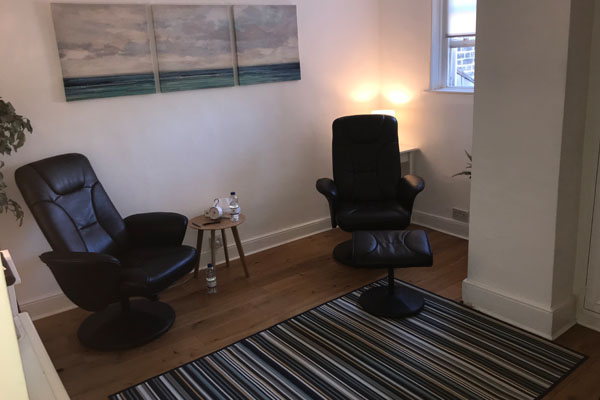 How to Get Here
My office is situated at the Oxford Street end of Harley Street. 1-7 Harley Street, Marylebone, W1G 9QD.
By Tube:
I am a 5-minute walk from Bond Street Tube Station and about the same from Oxford Circus. Both are on the Central Line.
By Car:
There is an underground car park in Cavendish Square, my office is a 2-minute walk away.
By Overground:
All main line trains that go into London relate to the London underground and will allow you to connect to the Central Line.
Can I have a Skype Session First?
Whilst I would prefer to meet face to face, I am happy to accommodate a Skype sessions if necessary. I would advise that they should be done in a controlled way. You should ensure you are in an environment without distractions for at least an hour to get the most from each session. Video sessions are charged at £90 per session and will be conducted exactly like a face to face session.